Managing PST files is sometimes challenging for most small and large organizations. Manage PST files using simple and effortless software is a must for organizations. Here in this write-up, we are going discuss professional software; read this write-up till the end. But before, let's talk about the manual method and why most users are uncomfortable with it. First of all manual method requires good technical knowledge to manage PST files.
Moreover, this task will become very long because sometimes users need to split and merge PST files and many more. So, it takes too much time for users. That's why most users prefer to avoid the manual method. Therefore, Shoviv professional method is the best solution to perform many tasks in a single software. Apart from this, the GUI of this software is very simple and easily accessible to every user.
Shoviv PST Management Suite allows users to do various tasks in a single tool without limitations. This tool solves many problems that users face while working with Outlook. As you know, problems that users face due to multiple and large PST files can lead to data corruption. For this, users can manage PST files, and in this tool, you can do multiple tasks such as splitting, merging, recovering passwords of PST files and compressing. Let's discuss all about the features of this software that it provides in this single automation.
Realated blog: Best Email Management Software for Outlook
Some Iconic features of Shoviv PST Management Suite software
Following are some best is use features provided by shoviv PST manager tool. In a single dashboard users can use these features and make PST files safer, compact, lite and useful.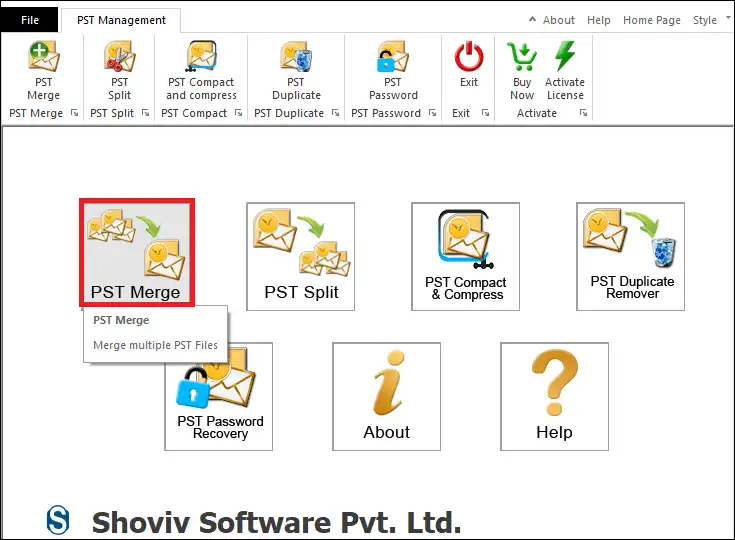 With this split PST file feature, users can split large PST file into smaller ones. Moreover, it helps users to avoid the issues of oversized PST files. Users can perform the splitting task using the four options: date, year, folder, and size. In addition, no matter whether the PST file is ANSI or Unicode, it works for both PST files.
It keeps the folder hierarchy, and meta properties of data maintain even after completing the splitting task.
The file selection process is very easy in this software users also can select the location of the PST files by choosing the browse option.
Users can split the PST files in which size they want to split.
Moreover, if users split the PST files using the date option, it allows them to add the date "from" and "to." It gives users a simple interface that makes the manage PST files task very easy.
Sometimes, it is challenging for users to manage multiple PST files. So, merging them into one is the best solution to eliminate these challenges. Let's talk about the what are options users will get with this feature of this software.
Users can merge their PST files by using the merge, join PST files and merge contacts folders.
It doesn't restrict the addition of multiple PST files at a time.
This option helps users to merge two or more PST files into new or existing ones without affecting a single data.
Even after merging two or more PST files, the folder structure and meta properties of the data are not affected.
It also provides the status of the whole process after ending the merging task. Still, users can save this status report for future reference.
Duplicate items can create many problems, such as storage problems, working issues in Outlook, etc. So, this task will become very essential for organizations. This software allows removing duplicate files without compromising a single data.
It expertly removes the duplicity of Outlook emails, contacts, tasks, journals, etc.
Furthermore, this option efficiently removes duplicate items from the Outlook folders.
It removes duplicate items from multiple PST files at a time without affecting the speed of the process.
After removing the duplicate items allows users to save the original data into a new PST file. That's
It provides a search facility that enables the user to find the desired items rapidly. And it also fasts the manage PST files task for users.
Users will show the full process of duplicate removing tasks, which gives a better work experience to users.
Users also recover the password of their PST files in this software without hassle. As we all know, everyone is busy with their work and remembering a password sometimes will become a tough task, and they forget it. But PST files store crucial data of an organization; that's why it is important to recover PST files' passwords.
This software feature helps users remove, recover, and reset the password of multiple PST files at a time.
It allows the addition of multiple and large PST files concurrently.
By completing each task of pass removing it provides a complete report of the whole process that users can save for future reference.
It works for both kinds of PST files; ANSI and Unicode.
After completing the process of unlocking PST files, the password will be shown to the next step.
If you are dealing with a storage issue due to oversized PST files then compressing PST files are the best solution for users. And it also manage PST files to avoid issues due to oversized PST files.
It allows users to save PST attachments into a target folder before processing the compressing task.
Users can compress and compact single or multiple PST files at a time without any difficulty.
This feature is able to compress and compact PST files created in any version of the Outlook email client.
It compresses the large PST files by decreasing their size without losing a single item.
Related blog: How to Add PST file into Outlook 365?
Final words
As we mentioned, all the features that users will get in Shoviv PST Management Suite. Most organizations wish to have a professional that provides various services in a single one. So, Shoviv comes up with this software that perfectly manage PST files and gives a good work experience to users. Now, it depends on the user's understanding; if they want to ease their work, then go with this advanced software. Users also download and install its free trial version to check its compatibility.