Summary:  In this blog, we describe the top ways to backup Google workspace data; it doesn't matter if you are a non-techy or just started with G suite.
Google workspace has been a boon for the individual and the organization that needs to manage email communication effectively. G Suite comes with lot of user-centric applications like Drive, Gmail, Calendar, Docs, and much more. Overall, it has helped to improve the way of working. But at the same time, it is the user's responsibility to take Google workspace backup to
prevent any undesired
circumstances. Moreover, this article will focus on explaining the solutions that will act as a savior to creating your G Suite data backup. We will also discuss some issues which manual backup solution, like Google Takeout, causes while taking backup and one professional third-party software.
Why is it important for users to backup Google Workspace data?
Look at the below-mentioned points, which will clear your doubts about why you should create a backup of the Google Workspace data:
Login of your Google workspace (G Suite) account on multiple systems can have an adverse effect on your data. User can intentionally or even unintentionally deletes your important data.
When the company goes for the acquisition of a company, there will be a need to share the data with others. So, taking workspace backup locally can help share the information with others.
In case of Google goes into the up gradation or their server faces any issues, then to have access to your data, it is better if you have taken a backup of your data.
An attack by a hacker can also put your data in deep trouble. So to overcome that incident, you will be in a good place if you're already taken the backup.
These situations make it important for the users to think of taking G Suite mailbox backup, and we almost reached the point where we will focus on specific backup solutions.
Related blog:
Google Workspace vs Office 365 Market Share 
Methods to take the backup Google Workspace Mailboxes
Not sure of the method which would assist you in creating the copy of the Google Workspace (G Suite) data? Try the Google Takeout offered by Google Workspace to initiate Google workspace backup in some simple steps. Let's dive into how this method works to back up the user workspace data.
Note
: Google Takeout allows you to create a backup of the complete data, which includes Drive, Maps, YouTube history, and much more.
Steps to backup user Google Workspace using Google Takeout
Firstly, login into your Google Takeout accounts through the login credentials like email Id and password.
Next, choose the amount of data you need to backup, and after selecting the services, you need to create the backup for, click the Next button.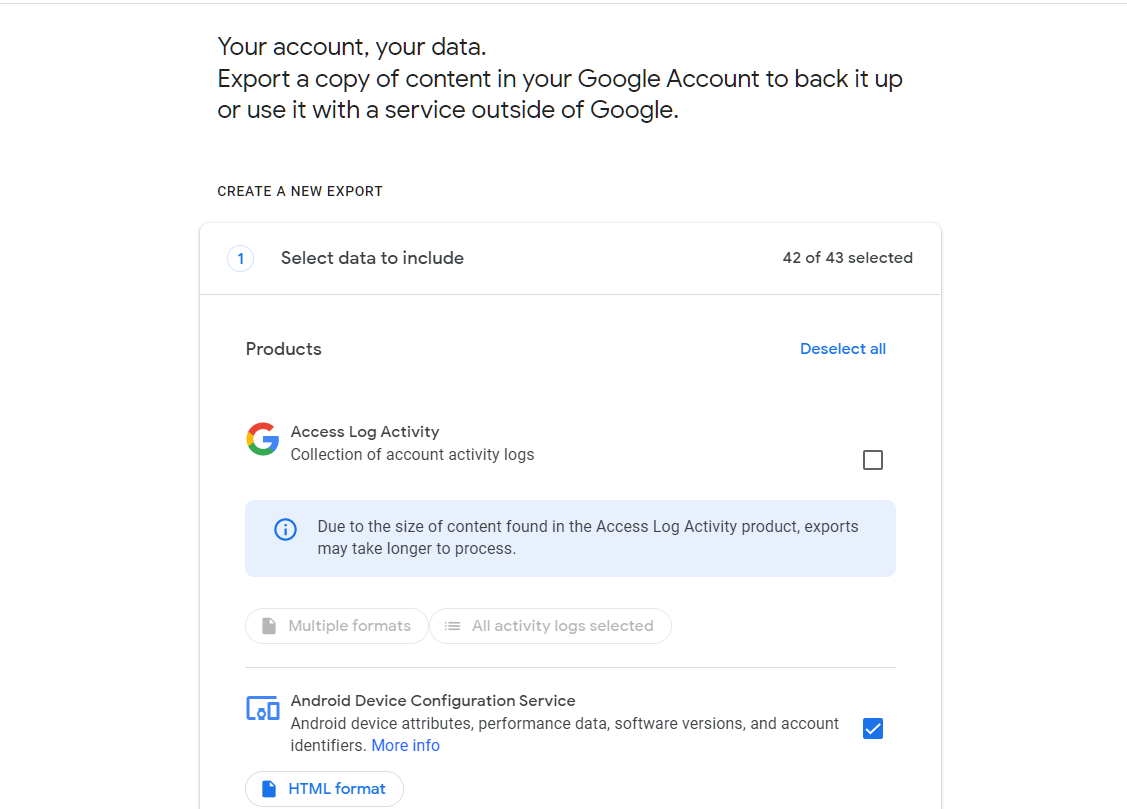 Here, you can set the frequency to take Google workspace backup, which is shown in the below-mentioned image. Also, you can select the size of the resultant backup file through the drop-down list. After selecting, click on create export request button.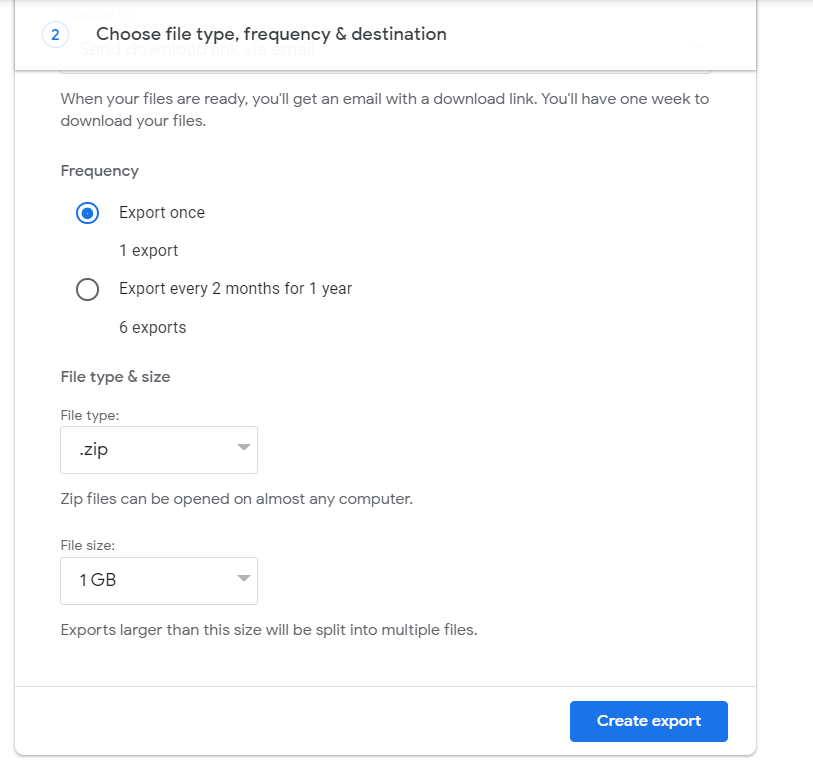 Now the process will start, and it will also allow you to cancel the export request. Once the backup task is over, you will receive an email with a downlink link to save the backup file.

Check the email and you will find the email consist of the link to download the file. Click on download your file.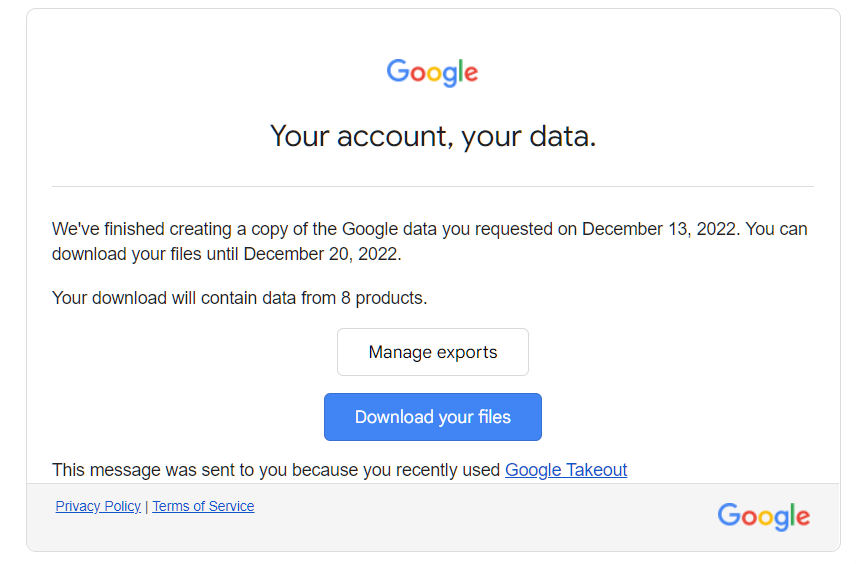 However, this solution has several downsides, which make it not a preferable choice for most the G Suite users. Users can only create up to 2-3 backup requests in a day, which makes it difficult if you have a large amount of data. Moreover, sometimes you will receive a message stating they cannot export the video from your Google photos. To overcome this, you need a solution that takes Google workspace backup without posting such restrictions. You can check for that solution in the upcoming part of this write-up.
Automated Solution to create Google Workspace Mailbox Backup
The need for more flexibility to customize the backup and take the backup of multiple Google workspace mailboxes simultaneously creates the need for third-party software. Users can use the
Shoviv G Suite backup tool
to emails, contacts, and calendars into multiple file formats such as MBOX, PST, etc. Any users who are not technically skilled can also use it easily. It allows filtering out the data as per their requirements which helps to restrict the resultant file. It is one of the best software for creating the Google workspace mailbox backup into multiple file formats. Also, users can also restore the backup file to their G Suite account. One of its compelling features, such as backup scheduling, helps to
create Google workspace backup
in several time frames. Additionally, if the user needs to resume the backup process from the last stopped point the next time software only takes a backup of the newly added data. You can also try its free evaluation version to learn more about the software.
Conclusion
Taking the backup of the Google Workspace account has always been a highlighted question raised by multiple Google workspace users. However, the manual method we have explained to create a Google workspace backup has many shortcomings. Alternatively, we have also mentioned one software that comes with a user-friendly interface that makes the task easier for all users. But in the end, the decision will be of users to select their preferred solution